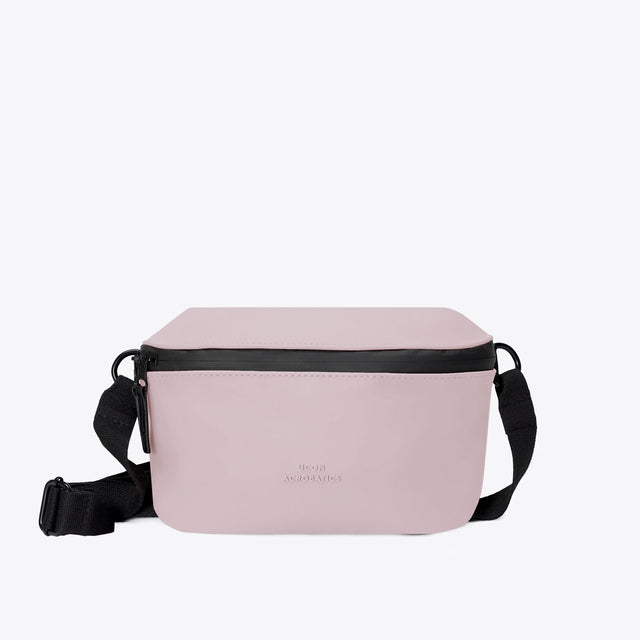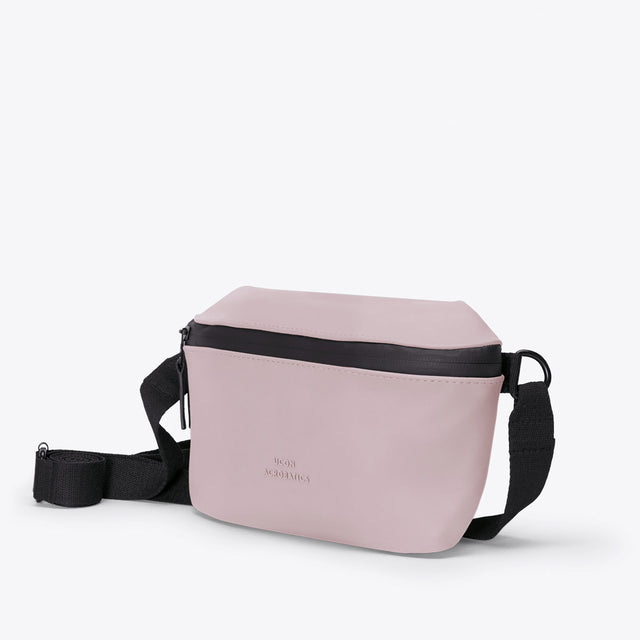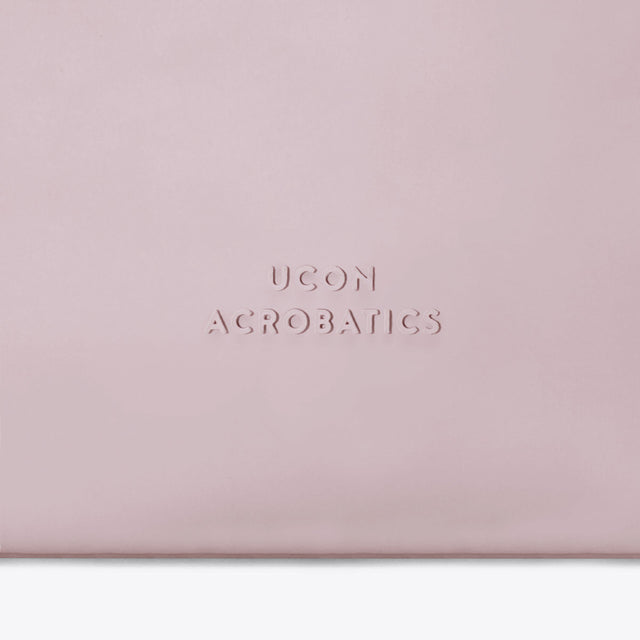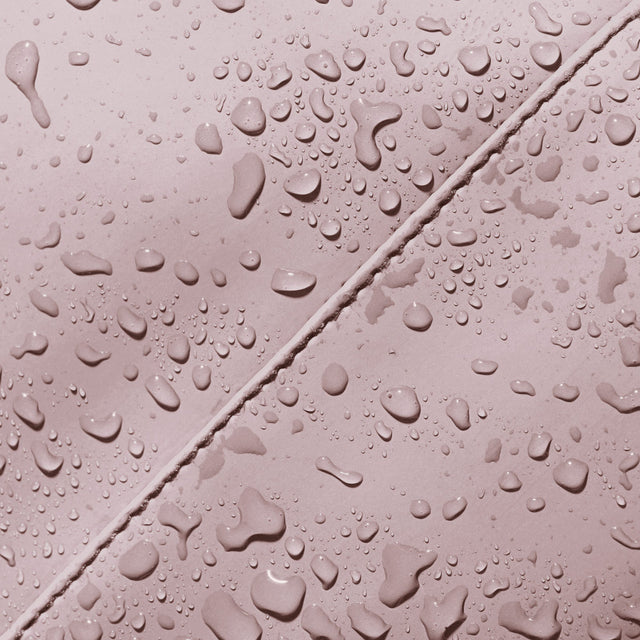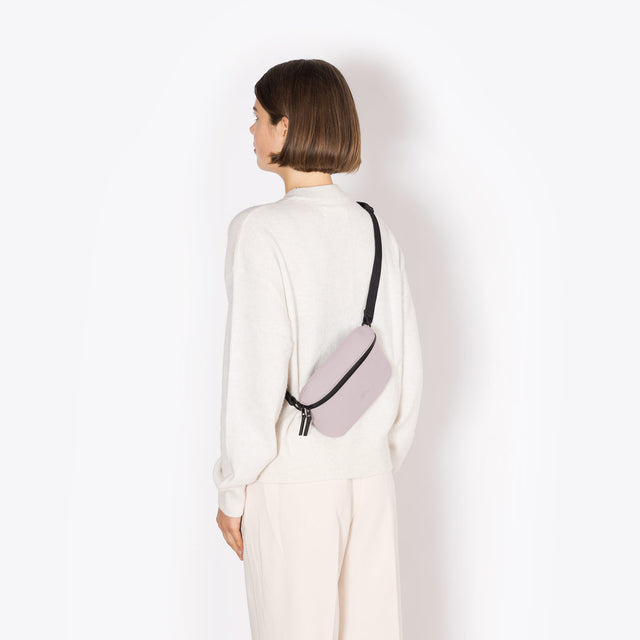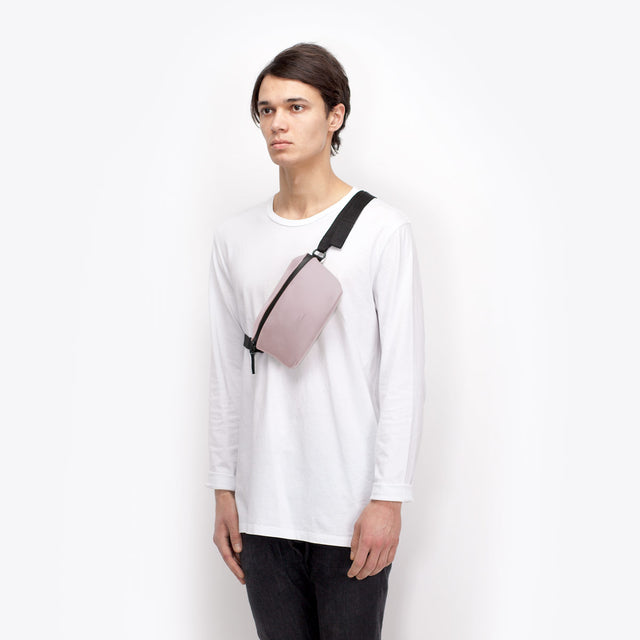 Jona Medium Bag
Taking your weekend plans in its stride, Jona Bag reveals compact storage space for your beloved tech essentials and small everyday items. It delivers streetwise flair and practicality to your every move. 

The Lotus Infinity Series is crafted from 'PUrTEX∞' - a custom ultra-durable tech material that Ucon Acrobatics developed over several years. It is made from recycled textile waste and finished with a rigid coating of solvent-free polyurethane (PU).
Lotus Infinity Series
Light Rose
Ready to ship
Free EU delivery over 99€
Climate neutral shipping
20 x 14 x 6 cm
1 l
180 g
Polyurethane (PU) with polyester from recycled textiles (rPET), solvent-free
Features
Custom-developed tech material by Ucon Acrobatics
Over 100x more scratch resistance than conventional artificial leather
Made from recycled fashion waste
Developed with the circular economy in mind
Can be worn as a crossbody or hip bag
Main compartment closes with two-way water repellent zipper
Additional compartment on the back with water repellent zipper
Inside pocket for cell phone
Internal holder for pens
Adjustable webbing straps
Protruding 'Ucon Acrobatics' print
Series
Unique in its performance when it comes to functionality, durability and aesthetic beauty. The 'PUrTEX∞' is a progressive material – resource-saving, easy-care and water-resistant. A new leather alternative made from recycled textiles, finished with a coating of extremely abrasion-resistant and solvent-free polyurethane.
Manufacturing & Material
Manufacturing
Made in China by factories that are regularly audited by amfori BSCI
Bluesign® system-partnership means we avoid harmful chemicals during production
Materials
'PUrTEX∞' is a custom ultra-durable tech material. Ucon Acrobatics has developed this progressive material over several years - which is second to none. Increased longevity - reduced thickness. Lower ecological footprint and steps into circularity. It is made from recycled textile waste and finished with a rigid coating of solvent-free polyurethane (PU). The PU foam layer has a cross-link structure, so the functional aspects are similar to molded rubber. The high performance has been proven in test results. The surface adhesion strength is four times better and the scratch resistance even improved over 100 times compared to conventional artificial leather. Furthermore, PU making is free of solvents such as DMF and VOC. The CO2e is reduced by over - 50%, the energy is reduced by over -40% and comes mainly from renewable sources. For the base of the material, post-consumer textile waste is transformed into recycled PET yarn in a chemical recycling process. The resource-saving spin dyeing process ("dope dye") is applied even before the interlock fabric is knitted. The savings of this are huge - water consumption is reduced by up to -90%, chemical consumption by up to -80%, energy consumption and CO2e emissions by up to -50%.
Components
Main Shell Material: 51% Polyurethane (PU), 49% Polyester (rPET) fiber-to-fiber recycled from post-consumer textile waste, dope-dyed
Secondary Shell Material: 54% Polyester (rPET) fiber-to-fiber recycled from pre-consumer/ post-consumer textile waste, dope-dyed, 46% thermoplastic Polyethylene (TPE)
Inner Material: 100% Polyester (rPET) fiber-to-fiber recycled from pre-consumer/ post-consumer textile waste, dope-dyed
Cushion Material: 100% Polyester (rPET) fiber-to-filler recycled from pre-consumer textile waste
Webbing Band: 100% Polyester (rPET) fiber-to-fiber recycled from pre-consumer/ post-consumer textile waste, dope-dyed
Metal Hardware: 100% Iron (FE), painted
Sustainability & Circularity
Dimension & Weight
Dimensions: 20 x 14 x 6 cm
Capacity: 1 l
Weight: 180 g
Delivery & Payment
Enjoy free shipping on all orders over 99€ within the EU. Incoming orders are processed within 24 hours on weekdays and will be dispatched immediately. Our standard shipping within the EU takes a total of 2 to 6 working days, outside the EU shipping takes 8 to 12 working days. When things need to go fast, we also offer an Express option. We ship our parcels with the tariffs 'DHL GoGreen Plus' and 'UPS carbon neutral'. The delivery companies promise to invest in new e-delivery vehicles and compensate the remaining emissions through climate protection projects.
We currently accept payments by Credit Card (Visa, Master Card and Amex), PayPal or Apple Pay.
Sustainable Partners
Learn More
Any questions left?
Click on a button or just scroll down!
Bag on the go
Ucon Acrobatics
Jona Medium Bag
INNER POCKET
Safe storage for your cell phone
Boarding Completed
All products comply with international hand luggage regulations and can be taken into the cabin of any airline.
Minimalist design from Berlin
Our products are designed in Berlin and stand for minimalism, creativity and sustainability.
Ultra-durable Material
Ucon Acrobatics
Lotus Infinity Series
water resistant product
All our outer fabrics are waterproof - however, we classify this product as 'water resistant'. In case of heavy and persistent rain, water can penetrate through the seams due to the construction. Therefore, we recommend a rain cover during such weather.
MINIMAL
DESIGN
Our durable, timeless designs for urban nomads are the result of environmentally friendly and social decisions as well as passion and creativity.
MINIMAL
EMISSION
We want to create the best product possible without causing any unnecessary damage. For this plan to work and for us to be able to inspire and implement environmental solutions, we work with carefully selected associations and partners.
Recycled
Fashion Waste
The product is mainly made from rPET yarn, which comes from textile waste.
A Change in Material –
A Change for the Climate
Instead of PET bottles from the beverage industry, we now recycle textile waste. A circular economy means that each industry is responsible for its own waste. We aim to use textile waste to the maximum extent possible. In doing so, we want to design them in such a way as to create durable products with low emissions.
Here are the key innovations
1
Largest possible percentage of recycled textiles
3
Reduced ecological footprint
4
Designed for the circular economy
How would such a 'innovation' look like?
Sustainability doesn't always have to look 'eco'. In our case, you can hardly tell the difference. Often they are not visible, because we look where no one looks. Hard plastics and foams are hidden in every backpack sold today. We have found a way to avoid all of that and use textile waste instead.

See how it works - step by step:
Textile
Waste
Rough
Shredded
Fine
Shredded
Felted
Filler
Lotus Infinity Material 'PUrTEX∞'
None of the materials available on the market completely convinced us. Over a period of several years, we developed our own material, which is second to none. Together with the experts of one of the world's largest manufacturers, we have succeeded in developing a new material with outstanding properties.

The laboratory comparison with commercially available artificial leathers is quite convincing:

b-corp
B-Corp use business as a force for good and prioritize people and the planet alongside profit. We have met rigorous standards for social and environmental performance, accountability and transparency.
bluesign
This certification system covers the entire production chain from raw materials to finished products and ensures that chemicals, water, and energy are used responsibly.
peta
Animals are not expendable and must not suffer for our products. We only produce beast free products because nothing should suffer – not humans, not animals and not the environment.
Ecologi
Together with our gold standard partner Ecologi we planted 25.000 trees in 2022 mainly through the 'Eden Reforestation Project'. With each purchased product in our online shop our customers help to plant one more tree and let our forest grow.

1 Product
=
1 TREE
Plastic
Fischer
Our partner Plastic Fischer is a social enterprise that develops cost-efficient technologies to collect plastic waste from rivers before it can enter the oceans.

With each purchased product in our online shop our customers help Plastic Fischer to remove 1kg of river plastic from rivers in Indonesia.
+
1 Product
=
1 KG RIVER PLASTIC